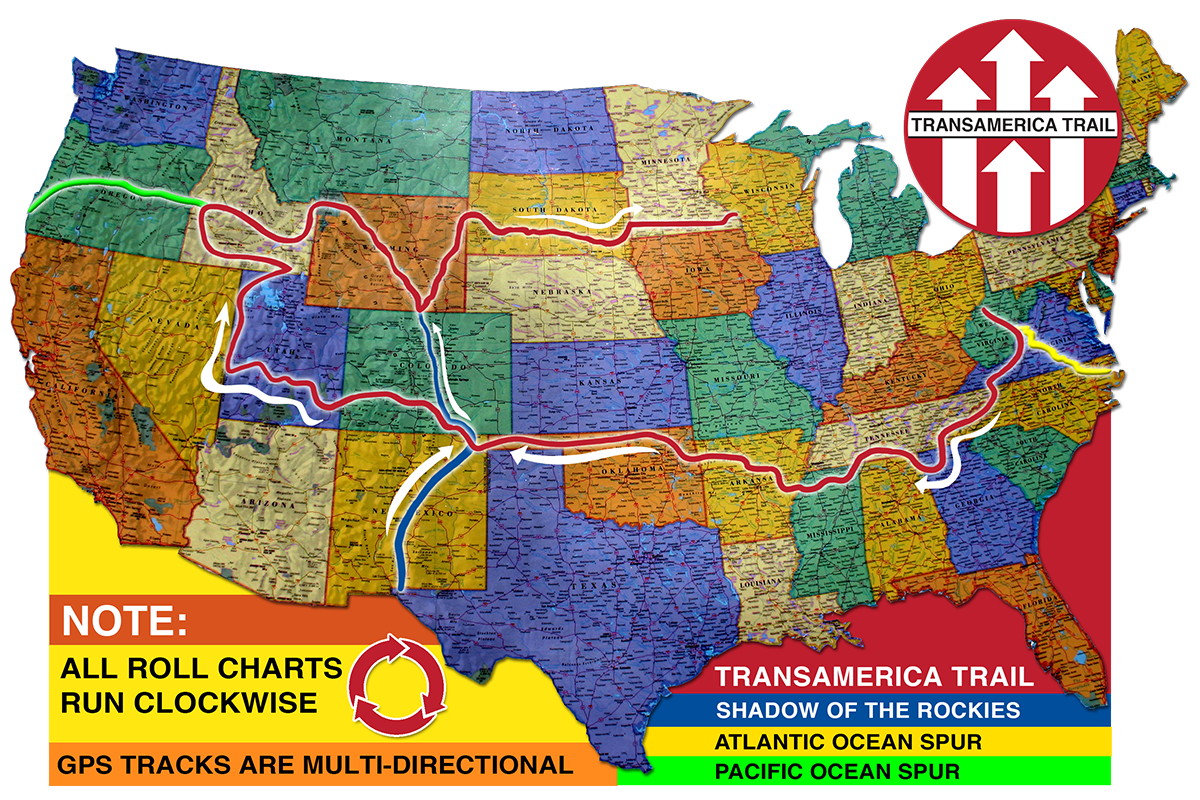 YOUR ADVENTURE STARTS HERE
The TransAmerica Trail is the cross-country adventure ride of a lifetime with mostly off-pavement travel. From scenic vistas and unique attractions to rough terrain and challenging conditions, the TAT presents every rider with the opportunity for an unforgettable journey and memories that will last a lifetime. Depending on the weather and location, riders may face challenges including mud, sand, snow, and rocks among others. As the trail is made up of dirt, gravel, forest, farm, and brief sections of paved roads, The TAT may be traversed using either a dual-sport motorcycle or a 4×4 vehicle. Do you yearn for adventure and exploration? Do you love meeting people, making memories, and experiencing new things? Are you an experienced rider with a love for both motorcycles and challenges? Begin your journey today with the official TAT maps, roll-charts, or GPS tracks available in a bundle or individually in the online store.
The TransAmerica Trail can be navigated using either a combination of maps and roll-charts or GPS tracks. Roll-charts include easy-to-use step-by-step navigation for clockwise travel, while maps provide additional details including a birds-eye view of the trail and information about stops along the way like dining, lodging, vehicle maintenance, and more. GPS tracks allow riders to easily reverse the navigation. The average TAT rider covers 200 miles per day, using the official navigation resources to plan each day's travel. Official TAT navigation utilizes public roads almost exclusively, with exceptions for private property owners who have given express permission*, to ensure riders are traveling safely and legally.
Do you dream of an incredible cross-country adventure? So did Sam Correro. In 1984, Sam followed his passion for adventure and set out with a goal to chart an epic off-pavement cross-country trail. After surveying and covering thousands of miles of ground, studying reams of maps, and detailing his travels every step of the way, Sam created what would later become the official TransAmerica Trail. The trail allowed Sam to pursue his passion for motorcycles, meeting new people, off-road exploration, and so much more. When Sam realized others were interested in sharing his passion, he made his unique trail available and countless adventure lovers have made the journey ever since. To this day, you can still find Sam out on his bike.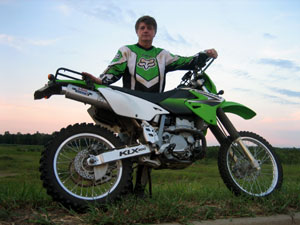 I wanted to tell you that my son and I ran TAT last summer from Clinton, MS to Port Orford, OR (on 2 XR 650's). The routes were spot on. We had an amazing adventure! We met a few riders that were using un-official routes; they were very vocal with some of their displeasure. I was quick to tell them how great our experience had been up to that point and pointed out that sometimes you just get what you pay for. Thank you for the great work. We are already looking forward to our next trip. Look out Wyoming and South Dakota, here we come!"
Hope you're doing well. Just to let you know, last week I finished my run from Ripley, WV to Andrews, NC on my Polaris RZR. Great, great trip. Five or six National Forests, beautiful cool altitudes that made the rides very comfortable, but – best of all – met some great people along the way.
Worked perfectly. I'm using it with the Backcountry Navigator.
Just wanted to say your maps have been wonderful! First me and my sons were riding, and now it is me, my sons, and my oldest grandchild.
This was fairly easy through Basecamp. I was able to load it successfully onto my Garmin. I hope to be leaving on this adventure this coming week. I have 5 weeks off.
We just wanted to reach out to you to thank you for your excellent TAT map of North Carolina. My husband and I have been watching TAT YouTube videos and reading blogs for months now, and we finally rode the entire North Carolina route. It was fabulous. We loved how your route included long uninterrupted stretches of gravel instead of working in every little gravel/dirt road in order to stay off paved roads. The views were also incredible. Thank you again for making this available, and we look forward to traveling the entire TAT in the next few years.
I completed the East part of the TAT earlier this year – fantastic route!
Thanks for the tracks. They were excellent. Beautiful ride.